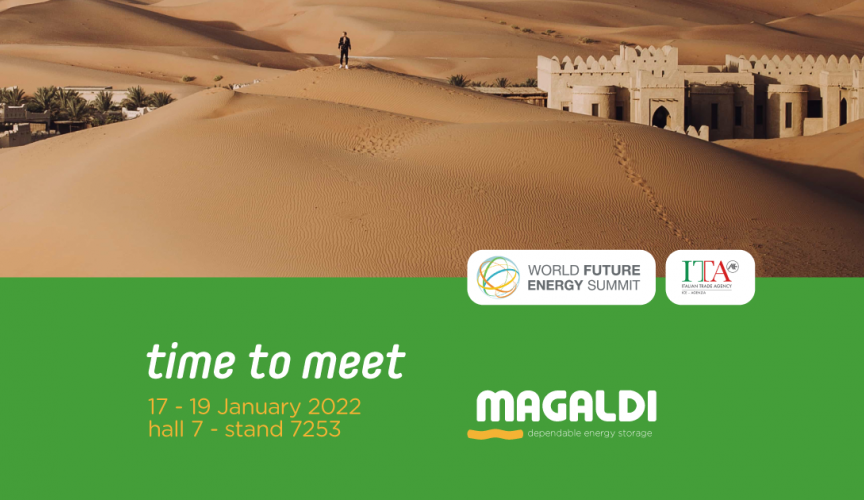 A smart solution to use solar and wind power, even when the sun is set and there is no wind at all. A possible scenario thanks to the innovative MGTES - Magaldi Green Thermal Energy Storage, a new generation clean energy storage system that will be protagonist at the World Future Energy Summit in Abu Dhabi, United Arab Emirates, from 17 to 19 January 2022 at the Abu Dhabi National Exhibition Centre.
The World Future Energy Summit in Abu Dhabi is one of the most crucial events in the world for sharing futuristic energy and sustainability solutions to fight climate change and globally promote the energy transition.
During the Summit, Magaldi Green Energy – start-up of Magaldi Power, world's leading manufacturer of steel belt conveyors to handle materials in severe conditions - will show MGTES' technology, a made in Italy battery that helps to overcome the intermittent availability of renewable energies.
Solar and wind energies depend on weather conditions: this is the reason why it is impossible to exploit them 24 hours a day, seven days a week. A discontinuity nowadays compensated by resorting to energy production from fossil sources, for example, on daily peak demand (morning – evening). On the other hand, when there is an excess of power production from renewable sources, electrical grid is forced to apply reductions. "Efficient and sustainable long duration energy storage is a key driver towards the progressive decarbonisation of energy markets and the global expansion of renewable energy" says Letizia Magaldi, Vice President of the startup Magaldi Green Energy, in Abu Dhabi to present MGTES' technology. "The reduction of CO2 emissions in favor of sustainable solutions for the planet is a challenge that requires pragmatism: Magaldi-patented Thermal Energy Storage System (MGTES) responds exactly to this need".
Find out more! Download MGTES' brochure here
https://www.magaldigreenenergy.com/en/applications/green-heat-production