Power to power applications
MGTES technology is designed to absorb electricity from a renewable power plant or directly from the electricity grid.
The input energy is stored as thermal energy and is used, at a later time, to produce steam useful for driving a power-block. The stored thermal energy is then converted into electrical energy and fed back into the electricity grid. The power-block could also be recovered from thermoelectric plants in the decommissioning phase. MGTES is therefore capable of providing regulation services to the electricity grid, participating in the dispatching services market and thus generating an additional benefit for the electricity system.

If required, the flexibility of MGTES permits the production of thermal energy in addition to electricity, representing an alternative renewable solution to a conventional cogeneration power plant (CHP).
In terms of efficiency, the performances achieved by the MGTES system are on a par with the technologies currently used. MGTES is able to provide thermal energy with a round trip efficiency of over 90%, decreasing down to 35% - 45% when the heat ratio in produced total energy is near to 0 % (for example, when the generation is completely electric) and the conversion efficiency is completely dependent on the power-block.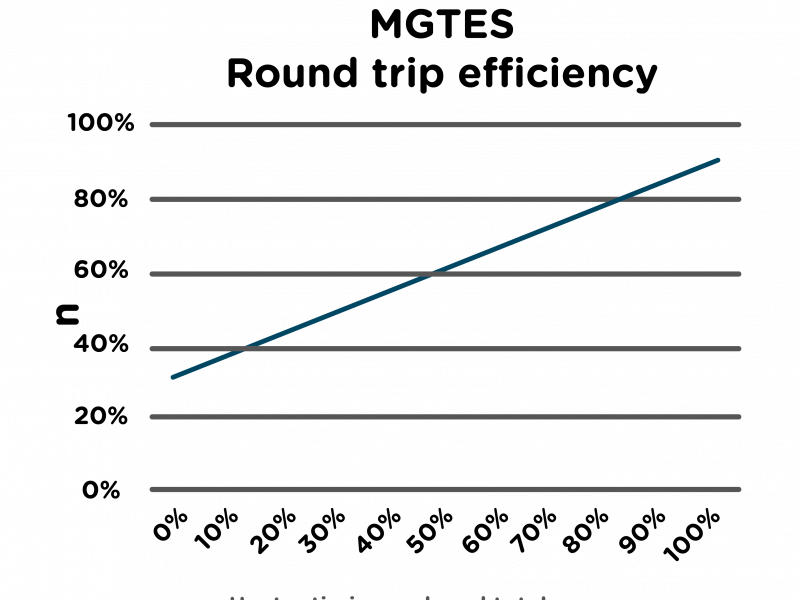 MGTES can play a leading role in the global decarbonization process, providing 100% clean power and heat, round the clock, enabling higher flexibility, efficiency and resiliency both at plant and system level. Moreover, waste heat from energy-intensive industries can be recovered, stored, and suitably integrated into the process, reducing fossil fuel consumption and reducing CO2 emissions and costs.
Our applications for Power to power applications