Heliostats, or sun-tracking mirrors, concentrate sunlight by focusing it onto a target, producing temperatures of hundreds of degrees useful for generating heat and power.
Magaldi designed the heliostat entirely with the collaboration of research centers, scientific institutes, and CSP industry partners. CNR-INO, Fraunhofer institute, and ENEA institute examined the most important performance characteristics, such as solar specular reflectivity and surface error.
Heliostat is designed to withstand maximum wind speed up to 100 km/h and is equipped with a silver glass mirror specifically developed for solar applications, which can withstand environmental corrosion of mirror's silver coating and edges.
Magaldi Heliostat A.I. Control System (MHC)
To operate their patented heliostats, Magaldi's R&D automation and control division, has created a software system to control the incoming solar radiation through high precision movement and monitoring of several hundred of heliostats. MHC is completely customizable to meet any customer needs.
Features and functionalities:
The system provides optimal aiming efficiency over time, adapting trajectories for each field heliostat.
The user interface is simple and user friendly.
Heliostat maintenance is easy.
The heliostat control board (CE marked), equipped with a biaxial inclinometer, can reject potential soil misalignment caused by an earthquake or heavy rain.
MHC is very flexible and adaptable for any kinematics (Yaw - Pitch / Pitch – Roll).
MHC is able to communicate with any DCS or PLC for data exchange and can be integrated with existing control system
MHC has been tested on a large scale plant for over 10.000 hours and can be managed by non-technical personnel.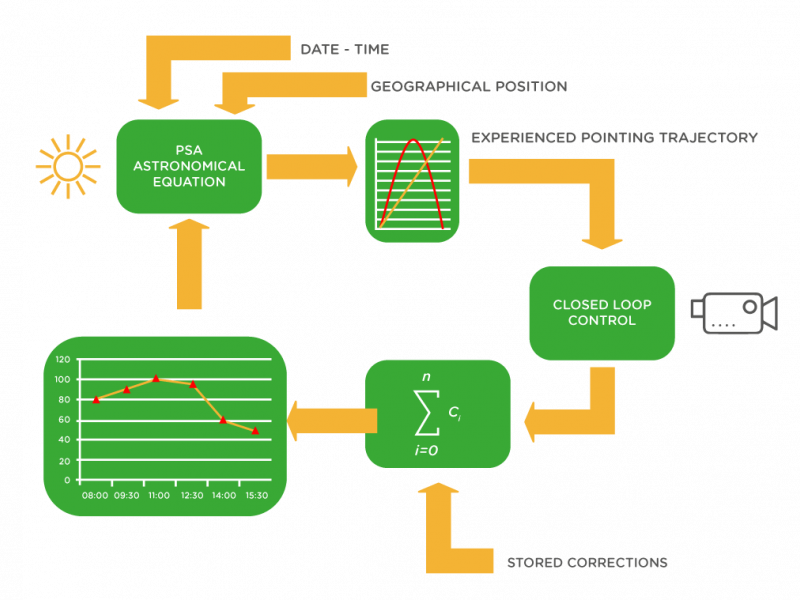 Closed Loop Control and Learning Algorithm
A closed loop auto-correction system, based on Artificial Intelligence, is included in the control system, in order to detect and correct any potential aiming error for each heliostat. Every day, the AI system collects and updates the system's "experience" with new daily data. Maximum performance can be attained in just one week (tested in Sicily with a 2 MWth STEM® prototype).