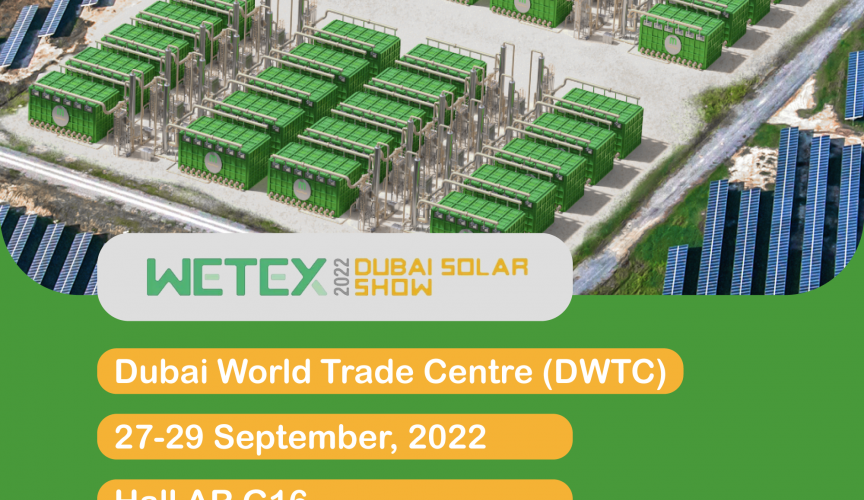 Patented by the Italian MGE, MGTES is market-ready: the green thermal technology will be protagonist at the Wetex Expo from 27 to 29 September in Dubai.
MGTES, the zero-impact thermal energy storage technology that overcomes renewables intermittency and helps reducing the dependence of energy-consuming industries on gas, is key player to the Wetex - Water, Energy, Technology and Environment Exhibition 2022, promoted by Dubai Electricity & Water Authority (DEWA), Wetex is the most important sectorial event in the Middle East and one of the most influential in the world dedicated to renewable energy.
Protected by 11 international patents, MGTES (Magaldi Green Thermal Energy Storage) is a storage system based on a fluidized sand bed (energy from the sand) powered exclusively by renewable energy. The system was developed and built by Magaldi Green Energy, startup of Magaldi Power, world leader in systems for the transport of very high temperatures materials.
Already showed at Wetex 2021, the made in Italy "sand batteries" have been further tested and brought to the highest level of technological maturity during 2022, finding application in the first industrial plant now in operation at the Magaldi plant in Salerno, Italy. The plant is currently on the route for commercial and industrial use.
The innovation releases 24h/7 high temperature thermal energy in a temperature-range between 150° and 400° in form of heat or process steam according to the needs of industrial users in sectors such as paper, food & beverage, chemical and plastic, today strongly destabilized by the gas emergency, with a global cycle efficiency close to 90-95 per cent.
"The possibility of storing energy produced from renewable sources - explains Massimiliano Masi, General Manager of Magaldi Green Energy Middle East - is the decisive challenge to move to an energy model that is truly independent from fossil sources. We have been working for many years on innovative and totally sustainable storage systems from an environmental point of view. Our MGTES allows: industries operating in importing countries to limit, and in some cases eliminate, the use of gas for industrial processes and in producing countries, such as here in the Middle East, to contribute to national sustainability goals and provide greater export raw materials".
MADE IN ITALY TECHNOLOGY TO STABILIZE CLEAN ENERGY
By its very nature solar and wind energy depends on weather conditions, and this is the reason why storage systems are entering the market to use it 24 hours a day - seven days a week, given that today this discontinuity is now compensated by resorting to to energy production from fossil sources. The growth of renewable energy market will be accompanied by an exponential growth of storage systems market, which, by helping to overcome the problem of intermittence, will allow the redistribution of energy throughout the day. Storage will be the essential element that will accompany renewables and will enable the overcoming of dependence on fossil fuels.
Here is the need solved by storage technologies which include - alongside electrochemical and hydroelectric accumulations (pumping), hydrogen - thermal storage technologies (thermal energy storage): all indispensable and complementary systems to enable the greatest penetration of renewables. When the production of renewable energy will exceed 50% of the need, the storage systems will grow exponentially.
RESEARCH AND DEVELOPMENT, THE AGREEMENT WITH RINA
The fluidized sand bed technology was patented by Magaldi Green Energy in 2020 with European and world patents. The Magaldi team in collaboration with the electrical and energy engineering department of Sapienza University (Rome – Italy) has published two scientific papers on this technology and has recently signed a collaboration agreement with RINA, a multinational inspection, certification and engineering consultancy company for mutual, further research and industrial application projects. The system has a useful life of 30 years and is zero-impact because is completely based on reusable and easy available materials such as silica sand and steel.
MGTES, FIRST WORLDWIDE ZERO IMPACT SAND BATTERY, THAT'S HOW IT WORKS
The MGTES - Magaldi Green Thermal Energy Storage system develops a storage technology based on a fluidized sand bed (energy from the sand), powered exclusively by renewable energy. The system can be charged with electrical and thermal energy excess, managing to store it for days, up to weeks, with very limited losses, and then discharging it when the sun and wind are not available. The system releases thermal energy on demand at high temperatures, up to 400 °, according to the needs of industrial users, with a global cycle efficiency close to 90-95 percent, even for more than 10 hours (Long Duration Energy Storage). In this way, the system allows to store intermittent renewable energy and to continuously release green thermal energy for industrial use, helping to stabilize the network and offering network services too. The sand fluidization system gives significant advantages: large thermal storage capacity (up to the order of GWh); high thermal efficiency; fast response times; no environmental impact, thanks to the use of natural materials.
ESSENTIAL THERMAL STORAGE IN INDUSTRIAL PROCESSES
Thermal energy storage systems take on even more impact considering that industrial processes largely depend on energy produced by heat. From one of the most recent global energy consumption reports (International Energy Agency 2020) emerges, for example, that 74% of the energy demand for industry is used to produce heat and steam and that 90% of this energy still comes from sources such as coal, oil and gas. The opportunity of guaranteeing an entirely sustainable production of industrial processes with high energy consumption, linked to the production of heat, is one of the central challenges towards decarbonization.
@WETEX ALSO TWO NEW MAGALDI TECHNOLOGIES: MAGALDI HELIOSTAS AND STEM CST
Magaldi Heliostats (solar mirrors) concentrate sunlight, generating temperatures of hundreds of degrees. The heat generated by the Magaldi Heliostats can be used to start a power cycle useful both for the production of electricity and for other industrial processes.
Designed by the Magaldi Mechanics and Optics Department, Magaldi Heliostats technology has been verified in its most significant performance characteristics, such as solar specular reflectivity and surface error, by the Italian CNR - National Institute of Optics, by the Fraunhofer Institute, and by ENEA. The heliostat can work in any geographic area.
MAGALDI STEM CST will also be showed at Wetex 2022: the technology collects solar radiation for on-demand fossil free thermal energy generation, useful for industrial process heat requirements at a temperatures ranging from 100°C to 400 °C, ready to be available 24 hours a day, overcoming the problem of intermittent sunlight. The CST STEM system is flexible and fully scalable.