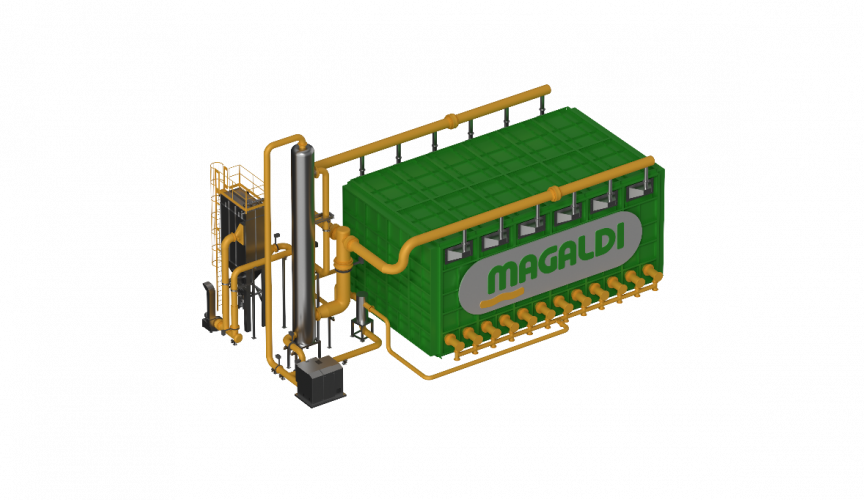 MGTES enters the market: Magaldi patented an innovative thermal energy storage system based on a fluidized sand bed (Energy from the sand), with high thermal diffusivity and operating temperature up to 1000 C°, which is able to offer flexibility services to the electricity grid and produce Green Heat for the industrial sector.
The system can be charged with excess electrical and thermal energy, stores it for days and weeks with very limited losses and discharges it for durations of 4 to 10 hours (Long Duration Energy Storage), when the sun and wind are not available. MGTES has reached a high technological maturity (TRL7) with over 10,000 hours of thermal energy production. The first industrial module is at an advanced stage of construction.
Magaldi Green Energy (MGE) is an innovative start-up focused on the research, development and marketing of renewable energy generation and storage technologies. Its parent company, Magaldi Power, is a world leader in hot bulk material handling. The mission of MGE, with its patented technologies, is to contribute to the decarbonization of the industrial sector, and increasing the flexibility of energy networks and the electrification of final energy consumption through renewable energy.
The intermittent and non-programmable nature of wind and solar power plants makes energy storage necessary to ensure electricity generation and a stable electricity grid. In this context, Thermal Energy Storage systems store electricity when it is available at low cost and release it at times of greater need, balancing supply and demand helping to stabilize the electricity (duck curve).
"For a complete Energy Transition, the surplus of renewable energy and waste heat are precious resources to accelerate towards zero emissions. Through our unique Thermal Energy Storage (MGTES) system we can store and generate renewable heat and electricity, up to GWhth scales, using only 100% ESG recyclable materials such as steel and sand ", declares Letizia Magaldi, Executive Vice-President Corporate Development of Magaldi Green Energy. The leadership team is completed by Raffaello Magaldi, Executive Vice-President Commercial & Technical Operations and Simone Savastano as Sales & BD Director.
"When the penetration of variable renewable energy exceeds 50% of the annual electricity generation, the need for storage will grow exponentially. Our technology will be a key element to ensure a greater flexibility of the electricity system and for the achievement of decarbonisation targets", says Raffaello Magaldi.
In addition to MGE, the group recently launched Magaldi Green Energy Middle East, based in Dubai, in the United Arab Emirates. Massimiliano Masi is the General Manager. Masi, former CFO of Edison and CEO of Edipower as well as Partner & Associate Director at the Boston Consulting Group (BCG), is also Chairman Advisory Board of MGE.
Magaldi Green Energy Middle East oversees the markets of the United Arab Emirates (UAE), Saudi Arabia, Oman, Qatar, Kuwait and the other countries of the Gulf Cooperation Council (GCC), where the company predicts that soon "a great green revolution will happen", says Masi, adding: "we believe that thermal storage can develop and become an integral part of major renewable energy projects in the Middle East". In this context "our sand-based technology can naturally be integrated with the large solar projects and will offer multiple applications both for thermal processes and for electricity grids".
MGE will be at the Wetex Expo in Dubai, on 5-7 October, together with the major international players in the renewable energy field. The company will showcase its MGTES and STEM CSP technologies and in the next few months will carry out a roadshow at the major energy and oil&gas companies, to identify use cases with potential customers and enter into partnership agreements, with the aim to accelerate production on a large scale, serving power generators, network operators and industrial customers.
Press release
Nasce la prima CER in area industriale
25 July 2023
Nasce la prima CER in area industriale. Dopo l'innovativo sistema di accumulo MGTES, prosegue l'impegno di Enel X e il Gruppo Magaldi verso la transizione energetica
Read More
Press release
TGCOM24: L'innovativa batteria di sabbia serbatoio di energia verde
17 January 2023
L'innovativo sistema di stoccaggio di energia termica basato su un letto di sabbia fluidizzato alimentato esclusivamente da fonti rinnovabili
Read More