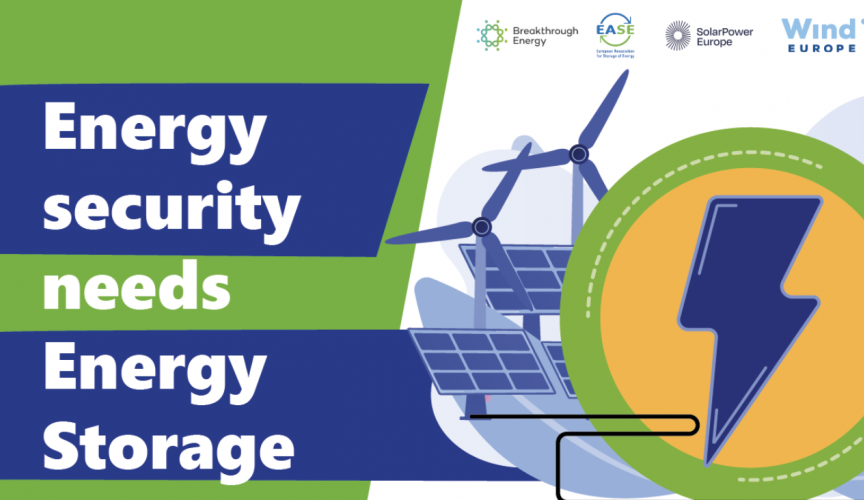 Recognize energy storage's crucial role for the security and availability of energy supply in Europe: it is the focus of the call coming from EASE - European Association for Storage of Energy, Breakthrough Energy, Solar Power Europe and Wind Europe through an open letter sent to the European Commission in order to recognize the urgent need in EU of a massive and rapid roll-out of energy storage solutions.
"Some of the solutions we have today to balance renewable generation, mostly dispatchable fossil generation such as gas-fired power plants – says the letter -, run contrary to Europe's climate, energy independence, and security of supply ambitions".
The four organisations welcome that the REPowerEU plan presented in March rightly recognises renewables, especially wind and solar, as key technologies to decrease Europe's dependence on Russian oil, gas, and coal.
"However – adds the letter - even if the renewable energy industry is ready to support EU's ambitions, without rapidly scaling up market-ready energy storage technologies, the EU will be unable to achieve a net-zero power system, risking continued exposure to volatile fossil energy markets. Energy storage needs to become a political priority alongside renewables in the short term and there are three actions the European Commission can take in its REPowerEU Action Plan in May: set energy storage targets for 2030, promote the uptake of energy storage technologies through funding instruments, such as contracts for difference under the innovation fund, and mainstream energy storage in the European Commission's implementation of the REPowerEU action plan and in the ongoing review of the Electricity Market Design".
"The current and risky geopolitical challenges confront Europe with pivotal energy choices that must be taken quickly but through a wise, shared and long-term strategy – comments Letizia Magaldi, Executive Vice President of Magaldi Green Energy -. If it is true that there are no rapid solutions to guarantee European energy security and independence in the short term, we knew about the great energy challenges posed by the climate emergency well before the Russian-Ukrainian conflict. The time has come to draw the new energy policies that are necessary to address the problem of intermittency of renewable energies with a serious, complimentary and planned approach to the use of energy storage technologies. First of all in Italy, Magaldi has decided to invest in thermal energy storage dispatching green heat with our innovative MGTES – Magaldi Green Thermal Energy Storage. We are really proud to confirm that our vision is supported by such a prestigious and reliable energy organizations through this open letter that we fully endorse".