Solargrid research project aims to revolutionizing solar thermal and photovoltaic systems with storage for co-generation and network flexibility. Solargrid seeks to drive forward progress and improvements in the elements and setups associated with Concentrating Solar Power (CSP) and Concentrating Photovoltaic (CPV) technologies. The ultimate goal is to amplify their energy efficiency, economic competitiveness, and integrating into advanced energy management networks.
Among Solargrid goals
Solargrid is an initiative promoted by a consortium composed of Magaldi Green Energy, Enea - Italian Agency for New Technologies, Energy and Sustainable Economic Development -, Eni, the Universities of Palermo, Siena, and Florence, the Politecnico of Milano, and IDEA Srl.
Concentrated solar power CSP technologies play a significant role in contributing to the global supply of clean and sustainable energy. In this scenario, Solargrid aim to the following aspirations:
Enhancement of energy performance and reliability of both CSP and CPV system components and individual elements, achieved through the identification and advanced development of technological solutions

Increase in thermal storage capacity and, consequently, the flexibility of heat utilization, facilitated by experimentation, modeling, and the development of components for energy storage systems

Identification of configurations with a high economic/performance trade-off and optimization of parameters for advanced hybridization/integration solutions with conventional and non-conventional energy systems, equipped with energy storage systems, integrated into the grid

Integration of production systems, incorporating distributed storage, within energy microgrids, to provide electric and thermal energy services, leading to the development of control and management strategies

Identification of eco-efficient solutions for the various presented technologies through assessments such as Life Cycle Costing (LCC) and Life Cycle Assessment (LCA).
Meet STEM®-CST - Solar Thermo-Electric Magaldi
Research initiatives, such as Solargrid, drive advancements and cost reductions in thermal solar applications, spanning from generating electricity with thermal energy storage to addressing the diverse needs of industrial processes reliant on steam or heat.
Regions with high DNI Direct Normal Irradiance are excellently positioned for implementing large-scale CSP projects for utility-level power generation, including the provision of solar power during nighttime hours. Countries situated in this worldwide solar belt can efficiently harmonize the sporadic assets of wind and solar photovoltaics by integrating the economical thermal energy storage that is inherent to CSP concentrated solar power.
In addition to the manageable solar energy generated through CSP, these areas also possess the potential to host focused solar thermal (CST) initiatives, supplying immediate heat without a power unit, fitting for industrial thermal procedures spanning a temperature range of 200°C to 600°C.
Italy, for example, currently has three operating concentrated solar power facilities. The inaugural one is the Archimede solar plant located in Sicily, boasting a capacity of 5 MW, and distinguished as the pioneer in utilizing molten salt for its heat transfer medium. Numerous other initiatives are presently in progress, predominantly situated in Sardinia and Sicily.
Magaldi Green Energy stands at the forefront of CSP innovation, boasting its STEM®-CST - Solar Thermo-Electric Magaldi, a patented Concentrated Solar Thermal technology created by Magaldi. This cutting-edge system harnesses solar radiation to generate renewable energy. STEM®-CST effectively captures and stores solar energy, offering readily available industrial process heat generation without relying on unsafe chemicals or processes.
Innovations in CSP - Concentrated Solar Power: exploring opportunities and insights from the Solargrid Seminar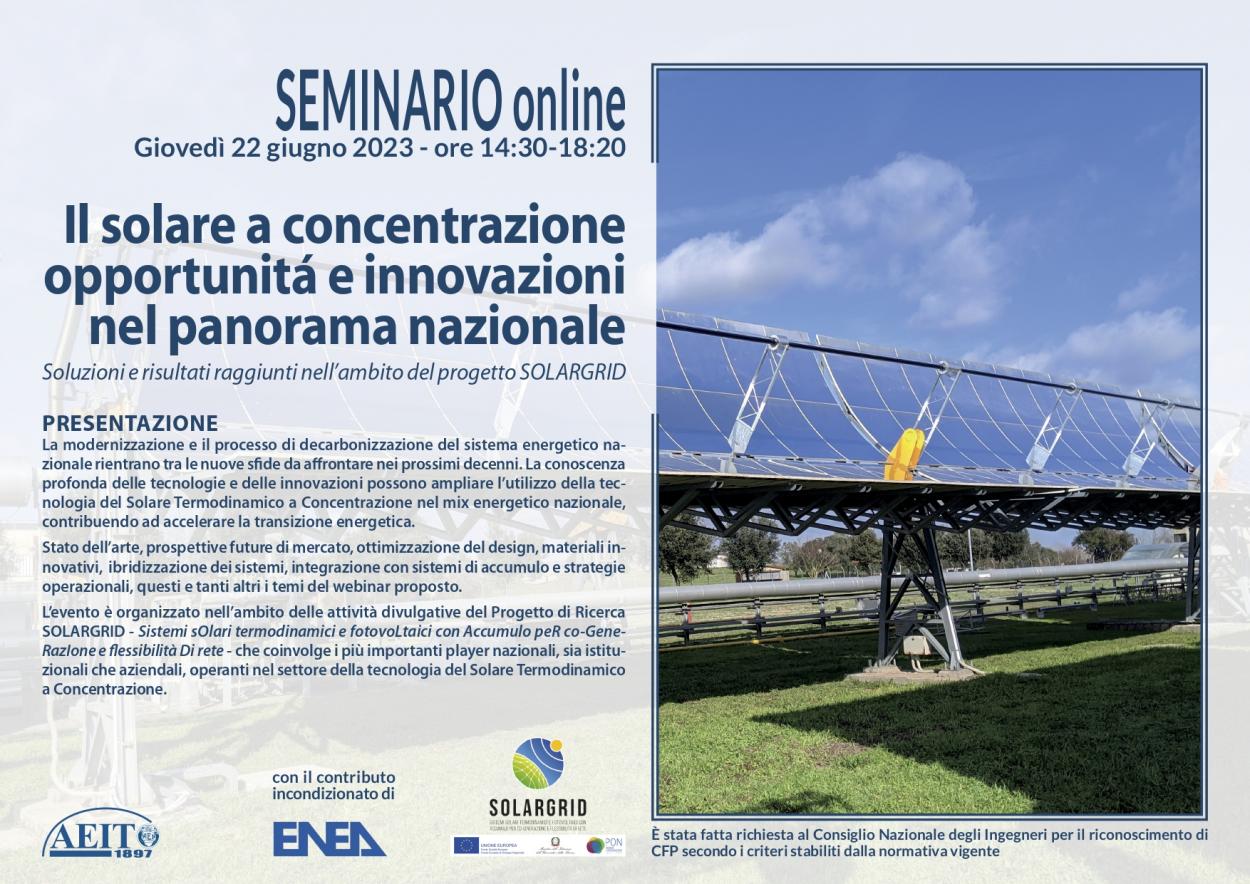 As part of the outreach activities of the Solargrid research project, a seminar titled "Concentration Solar Power - Opportunities and Innovations in the National Landscape" was organized last June in collaboration with AEIT, involving the most important Italian players, both institutional and corporate, operating in the Concentrated Solar Thermal technology sector. Fulvio Bassetti - R&D Technical Director - Magaldi Power and Carla Bevilacqua - R&D Engineer - Magaldi Power participated in the event, delivering a presentation on the topic: "Innovating STEM Technology: leveraging storage systems and hybridization processes developed in the Solargrid Project ".
"Since around 2006, especially in the USA and Spain, and also thanks to the increasingly significant introduction of TES Thermal Energy Storage, CSP solutions have gained momentum – explains Fulvio Bassetti - and we can see how over time, already by 2009 after 3 years, installations grew from a few megawatts to 1 GW operational, then reaching 6.7 GW in 2018, and in 2022, last year, attaining 10 GW. CSP technologies are spreading due to the need for developing emission-free electric and thermal energy solutions, with further ambitious targets set for 2030 that represent a sort of developmental challenge worldwide".
Here you can watch an excerpt of their presentation at the seminar (Italian only 🇮🇹).