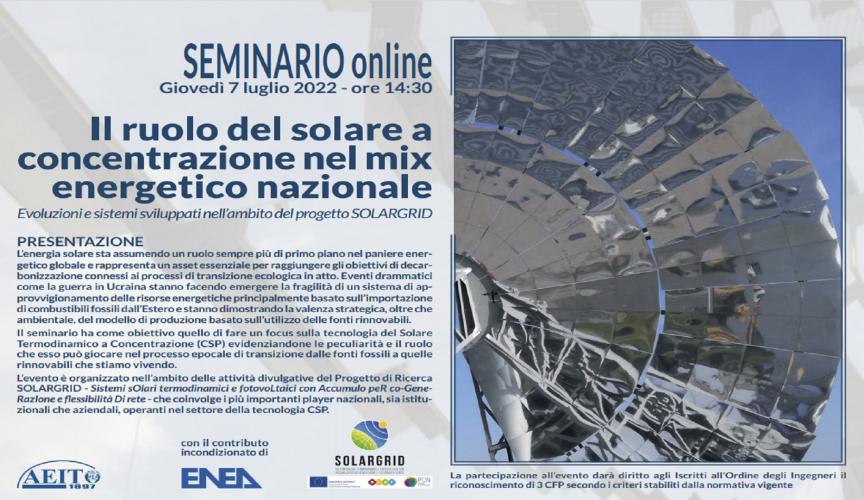 "The role of concentrated solar thermal in the national energy mix - evolutions and systems developed within the SOLARGRID project" is the focus of the online seminar organized on Thursday 7 July from 14:30 by AEIT with the contribution of ENEA, which will be attended by Antonio Scafuri, Project Engineer of Magaldi Power, with the speech "Automation of hybrid solar systems with fluidized bed thermal storage, using STEM technology - Solar Thermo Electric Magaldi".
Join the open seminar and register on the website www.aeit.it in the "events and exhibitions" section!
"Solar energy - commented the organizers of the webinar - is assuming an increasingly prominent role in the global energy basket and represents an essential asset for achieving the decarbonization goals linked to the ecological transition processes. Dramatic events, such as the war in Ukraine, are bringing out the fragility of an energy resource supply system, mainly based on the import of fossil fuels from abroad, and are demonstrating the strategic, environmental value of the production model based on renewables. The seminar aims to focus on Concentrating Solar Thermal (CST) technology, highlighting its peculiarities and the role it can play in the process of transition from fossil to renewable".
The event is organized as part of the dissemination activities of the "SOLARGRID Research Project - Thermodynamic and photovoltaic solar systems with accumulation for co-generation and network flexibility", which involves the most important national players, both institutional and corporate, operating in the field of CST technology.
More info here