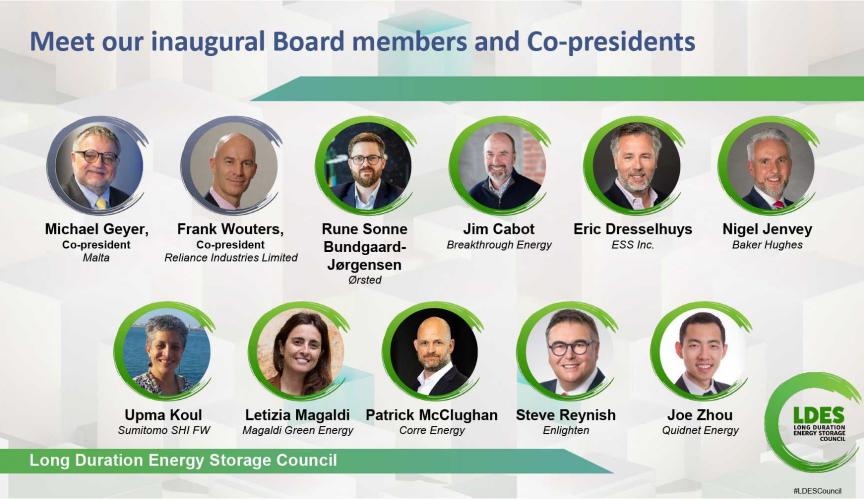 Magaldi Green energy is member of the first Board of Directors of the Long Duration Energy Storage Council ("LDES Council"), a global non-profit organization by McKinsey that aims to accelerate the decarbonisation of the energy system by promoting the adoption of innovations, policies and strategies to support the commercialization and use of long-life energy storage systems.

The LDES Council - set up by McKinsey in Glasgow, Scotland, on the occasion of COP26, the last United Nations Conference on Climate Change - is at the forefront of promoting solutions, technologies, data and concrete proposals aimed at achieving carbon neutrality and decarbonisation and has already released its first annual report on the need for long-term energy storage to achieve the zero carbon and 100% renewable production goals.
"We all know - says Letizia Magaldi, representing Magaldi Green Energy as Board member of the LDES Board of Directors - that renewable energy is the most competitive, convenient and priority option for implementing industrial decarbonization and achieving greater energy autonomy and security. But we need complementary energy policies that act in parallel in order to fully exploit the potential of renewables and solve the problem of avilability intermittence of the energy from sun and wind through long-term green and clean energy storage strategies. I am thrilled to officially become a spokesperson and supporter of these policies as a member of the LDES Council Board of Directors, alongside the most prestigious players in the global energy sector. Through the Board we will try to spread our vision with technologies and proposals aimed at guiding this decisive change. As executive Vice President of Magaldi Green Energy, I am also happy to see that the choice of our company to bet first of all on long-lasting Thermal Energy Storage technologies has proved to be successful and forward-looking, increasingly proving to be a valid way to favor the energy transition".

The Council will determine and provide priorities, guide strategies, information, financial models and regulatory proposals to promote the global diffusion of long duration energy storage (LDES) technologies. The Directors of the Board have been appointed by the members of the Council, which represents the widest spectrum of experiences in the LDES area and is made up of technology providers, equipment providers, companies in the renewable energy sector, grid operators, investors, utilities and customers.

Together with Letizia Magaldi, the members of the Board of Directors are: Michael Geyer for Malta, Frank Wouters (Reliance Industries Limited), Rune Sonne Bundgaard-Jørgensen (Ørsted), Jim Cabot (Breakthrough Energy), Eric Dresselhuys (ESS), Nigel Jenvey (Baker Hughes), Upma Koul (Sumitomo SHI FW), Patrick McClughan (Corre Energy), Steve Reynish (Enlighten), Joe Zhou (Quidnet Energy).