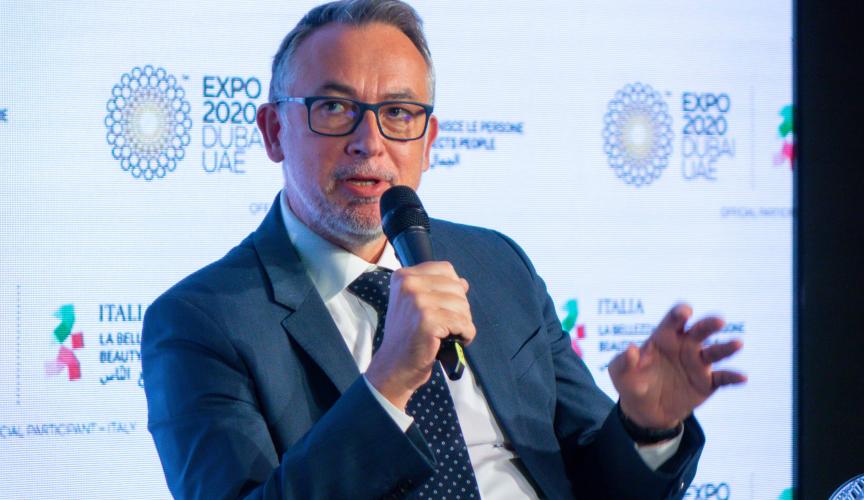 A one-day event entirely dedicated to the excellences of Italian exports to the United Arab Emirates as part of Expo Dubai 2020.
Today - Monday 21 March 2022 - the Italian Export Forum (IEF) starts to the Amazing Room of the V Hotel - Al Habtoor Complex in Dubai.
IEF's conference explores contemporary challenges and innovations of Made in Italy exports in different sectors, activating three debate-panels on three areas: Medical & Healthcare, Agriculture & Food, Automation & Innovation.
In the afternoon session during the Automation & Innovation panel, Massimiliano Masi, GM of Magaldi Middle East, will present MGTES, an advanced Thermal Energy Storage system which is already prototyped and fully operational in Power to Heat mode in Magaldi Buccino's factory.
Massimiliano Masi will participate to the seminar together with Ciro Aquino (Senior Relationship Manager UAE & MENA Region - SACE), Ayman Al Awadi (The Corporate Group), Francesco Favarò (Watergy International Group LLC). The session will be moderated by Angelica de Vito (Director of Public Affairs of the Italian Export Forum).
Streamed live on the IEF Facebook page https://www.facebook.com/italianexportforum/, the event will be open by Lorenzo Zurino - President of the Italian Export Forum, Nicola Lener - Ambassador of Italy in Abu Dhabi, Fahad Al Gergawi - CEO Dubai Investment Development Agency - Dubai FDI, Massimo Falcioni - CEO Etihad Credit Insurance.