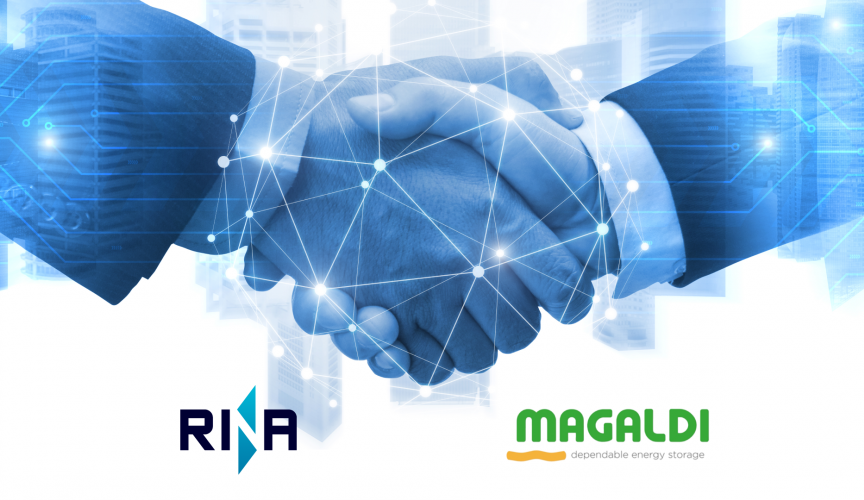 RINA and Magaldi has just signed a Memorandum of Understanding (MoU) to deepen the study, analysis and certification of the ESG (Environmental, Social and Governance) benefits of the Magaldi Green Thermal Energy Storage (MGTES - the innovative Magaldi-patented system to store renewable energy and release clean energy and green heat on demand), and to promote the development of new applications and projects across the industry sector.

RINA and Magaldi will also cooperate to identify funded research opportunities and tools to access international investment projects in Europe and Italy, leveraging the mechanisms of the Italian National Program for Recover and Resilience (PNRR). An industrial pilot plant of MGTES will be constructed at the RINA Innovation Hub in Castel Romano, Rome, to reach those goals.
RINA is a multinational company specialized in engineering inspection, certification and consulting. Magaldi Green Energy is a startup of Magaldi Power which focuses on research, development, production and commercialization of breakthrough technologies for the generation and storage of renewable energy.

"Together with Magaldi Green Energy, one of the most relevant players in industrial technologies - declares Ugo Salerno, President and CEO of RINA - we will have an opportunity to reciprocally promote and support the exchange of know-how and experiences, contributing to the development of thermal energy storage solutions to accelerate the energy transition. RINA will bring its engineering skills in the field of advanced materials and definition of adequate ESG indicators at the service of Magaldi Green Energy. We are convinced that this is a necessary further step
that will lead us to a more sustainable production system and towards new models of energy production and supply".

"Energy storage technologies allow to overcome the intermittence-issue of renewables sources - says Mario Magaldi, President of Magaldi Green Energy. - For this reason, storage systems are among the key elements to enable the energy transition. MGTES (Magaldi Green Thermal Energy Storage) acquires electricity produced from renewable sources and releases thermal energy on demand at high temperatures, up to 600°, according to the needs of industrial users and with a global cycle efficiency of nearly 90 percent. Thermal Energy Storage innovations allow 24/7 continuous generation of renewable thermal energy for high-temperature thermal processes. This represents a concrete response to the need to replace gas to achieve the goals of industrial decarbonisation and CO2 reduction. The first pilot plant, built in our headquarters in Buccino, in the province of Salerno, is already on. This prestigious collaboration with RINA will allow us to enrich our skills and to identify further solutions to support the industries in this delicate but interesting phase of transition".